The Ring Dinger® in Wellington FL
It's official, The Ring Dinger® is in Wellington FL!
At Palm Beach Chiropractic, we realize that there are many different techniques out there for different patients and their conditions. That's why Dr. Lamperski contacted the man himself, Dr. Gregory Johnson. He traveled to Houston, Texas to learn and study the benefits Dr. Johnson has experienced with the Ring Dinger® and Johnson BioPhysics® Technique. He officially brought this trademark technique to the state of Florida. Dr. Lamperski is part of the elite Team Ring Dinger®.
---
Why Try The Ring Dinger® in Wellington FL?
The Ring Dinger® is recognized worldwide for the unique and effective way to decompress the spine. First and foremost, Dr. Travis Lamperski conducts a thorough medical history and orthopedic & neurological examination on every patient. He must determine if they are a candidate for this procedure to ensure it will be safe and effective. During the Ring Dinger®, the patient lies on their back with their legs elevated and hips secured to a custom table. Dr. Lamperski then uses a towel to apply controlled pressure in one smooth motion to manually decompress the entire spine. After the full spinal decompression on the Y-Axis, he performs more adjustments to the neck and spine. The Ring Dinger® is just one adjustment that fits into the entire Johnson BioPhysics™ adjustment technique that manipulates all vertebrae and extremities and adjusts along the X, Y & Z axis.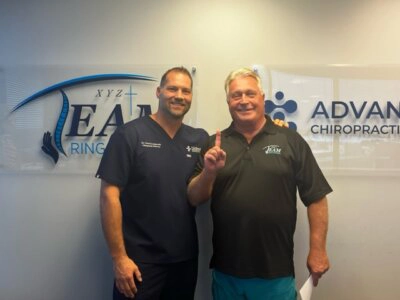 ---
From Houston Texas to Palm Beach Florida
Dr. Gregory Johnson has been performing this technique for over 40 years with his patients. Needless to say, he has experienced incredible results. The Ring Dinger®is a manual spinal neural decompression on the Y-Axis. It has made quite an impact on chiropractic medicine. Sometimes regular chiropractic adjustments may not be as effective due to the patient's biomechanics. If you feel compressed like most people do, the Ring Dinger® might be your answer!
OFFICE HOURS
---
Monday
8:30am - 6:00pm
---
Tuesday
8:30am - 6:00pm
---
Wednesday
8:30am - 6:00pm
---
Thursday
8:30am - 6:00pm
---
Friday
Closed
---
Saturday & Sunday
Closed
Palm Beach Chiropractic & Rehabilitation