About Our Office in Wellington FL
In our practice in Wellington FL, many of the common injuries that present in chiropractic offices can be cared for successfully in as little as six total treatment sessions.
That's not to say that your particular problem couldn't take longer to relieve. Certain issues such as traumas from auto accidents or falls will obviously take longer to help successfully than a "crick" in the neck you woke up with on Sunday morning.
But if you've been told that your issue will take months to relieve because of "degeneration" or some other finding from an x-ray, you may want a second opinion. The fact is that there's not much correlation between degeneration (which happens to everyone) and pain.
---
Our Approach in Wellington FL
Even acute disc pain/herniation can respond quickly to care–we frequently have patients with disc herniation (that's been confirmed with MRI) get out of pain in just a few weeks, even if they had been in pain for months. The key to all of this is empowering patients with the tools they need to help themselves more quickly. With almost all back and neck pain situations, there are movements and exercises to either embrace or avoid.
Our strategy here is to develop a working diagnosis, explain the implications of that diagnosis to the patient, and start a conservative course of treatment. We walk through your situation with you. We don't demand you comply with some form of contractual agreement to finish your care plan.
---
Our Chiropractic Treatments
Ring Dinger®: Non-Surgical Manual Spinal Decompression
Chiropractic Manipulation
Summus Laser Therapy
Spinal Decompression
Active Release Technique
Soft Tissue Mobilization
Palm Beach Chiropractic & Rehabilitation is dedicated to getting you back to regular activities as soon as possible. Rapid pain relief is our goal!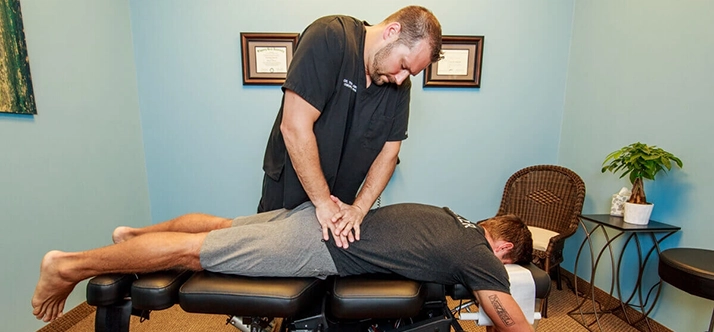 We consider your needs and expectations when we develop your treatment plan. Whether you're a powerlifter or an all-star stay-at-home mom, we want you back to living your best life. We want you back to the gym, playing with your kids, or just simply sleeping through the night. Evidence shows that the sooner you resume your usual daily activities the faster you get better. Don't waste any more time dealing with your pain, let us help you live again with our short-term care for neck pain and back pain, headaches, and other musculoskeletal discomfort. Palm Beach Chiropractic & Rehabilitation also treats upper and lower extremity pain and injuries.
Call and make an appointment today. We treat each patient with respect and dignity, so we limit the number of appointments per day to ensure time is well spent on their care. Reserve your spot. Take the opportunity to feel better and maintain the healthy, optimal lifestyle you deserve.
There are many conditions originating from the spine, but there are three conditions that routinely affect our ability to live our optimal lifestyle and are the main reasons people seek chiropractic care. Headaches, back pain, and neck pain. These conditions are the most common reason for missing work and preventing people from exercising, which leads to muscle weakness and the inability to protect your body from injury.
Fortunately, these conditions are as treatable as they are common. Chiropractic care can be used to prevent injuries and help you achieve total health or wellness. In addition, we will teach you management strategies and skills that you can do for yourself. You shouldn't have dependence on any particular health care professional, but learn health management and take control of your own well-being.
OFFICE HOURS
---
Monday
8:30am - 6:00pm
---
Tuesday
8:30am - 6:00pm
---
Wednesday
8:30am - 6:00pm
---
Thursday
8:30am - 6:00pm
---
Friday
Closed
---
Saturday & Sunday
Closed
Palm Beach Chiropractic & Rehabilitation