Summus Medical Laser Therapy in Wellington FL

Our Summus Medical Laser in Wellington FL is designed to relieve neck & back pain & many other painful conditions quickly, often on the first visit.
If you have a focused point of pain, we have the solution. If you've been nursing an injury and hoping it would fix itself, you should know they often don't. The problem with connective tissue injuries is that those tissues don't have much of a direct blood supply. Blood is needed to get tissues to heal. Often the cumulative stress of daily activities creates a situation where the micro-traumas occur faster than the tissue's ability to heal, especially after an initial injury.

Say you have tendinitis in your elbow that started with a minor injury. Often these problems don't resolve because of the daily use the tendon gets while going through the motions of life. Grip strength is affected. Life gets more complicated as you avoid doing things that you usually do every day.
Dr. Lamperski prides himself on being "evidence-based" in the way that he practices. He has been reading and researching the efficacy of class IV lasers for years. This laser delivers results!
The laser works by increasing the supply of fuel your cells use to do everything they do, including the repair of injuries. During treatment, laser energy increases circulation, drawing water, oxygen, and nutrients to the damaged area. The rate of repair can then exceed the rate of micro-trauma. Your pain goes away, even after other soft tissue interventions have failed.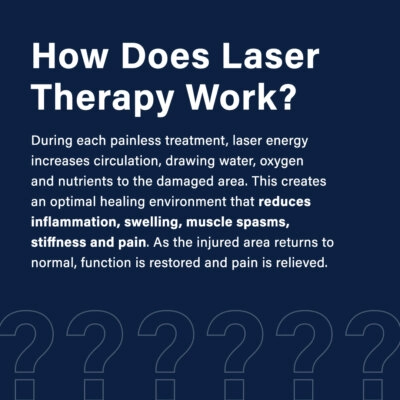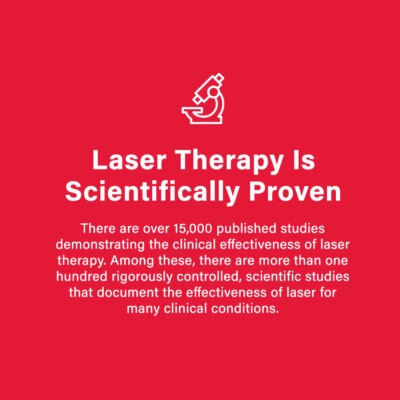 The best part? The process itself is painless. You feel nothing but a soothing warmth during treatment. But what's going on inside your tissues for the 48 hours following can be miraculous.
---
Benefits of Laser Therapy in Wellington FL
Numerous studies have shown that Laser Therapy can help with:
Auto & Work Related Injuries
Burns
Carpal Tunnel Syndrome
Chondromalacia Patellae (Knee Pain)
Disc Herniations
Deep Edema & Congestion
Diabetic
Foot Ulcers
Neuropathy
Shoulder Pain
Tendinopathies
Trigeminal Neuralgia
Venous Ulcers
Plantar Fasciitis
Fibromyalgia Pain
Herpes Zoster (Shingles)
Lateral Epicondylitis (Tennis Elbow)
Ligament & Muscle Sprain/Strain
Low Back Pain
Medial Epicondylitis (Golfers Elbow)
Myofascial Trigger Points
Neck Pain
Neuropathy
Osteoarthritis
Post Traumatic Injuries
Repetitive Stress Injuries
Rheumatoid Arthritis
Sports Injuries
Call us to schedule an examination to determine if you are a candidate for this type of treatment at (561) 708-5700.
OFFICE HOURS
---
Monday
8:30am - 6:00pm
---
Tuesday
8:30am - 6:00pm
---
Wednesday
8:30am - 6:00pm
---
Thursday
8:30am - 6:00pm
---
Friday
Closed
---
Saturday & Sunday
Closed
Palm Beach Chiropractic & Rehabilitation